Recently the Galaxy S9 and S9 Plus were announced in China with values ​​typical of Samsung , since they are varying from around R $ 2,943.00 to R $ 3,857.00. And in addition to that, it's time for Microsoft to release pre-orders for those handsets that have recently received a lot of praise from the public.
Now you can find the S9 (64 GB) and S9 Plus (64 GB) unlocked in the Microsoft Store for $ 719.99 (~ $ 2,339.00) and $ 839.99 (~ $ 2,728.00) respectively. In addition, the Redmond giant is still making free shipping available to its consumers. Remembering that this information is unique to the United States .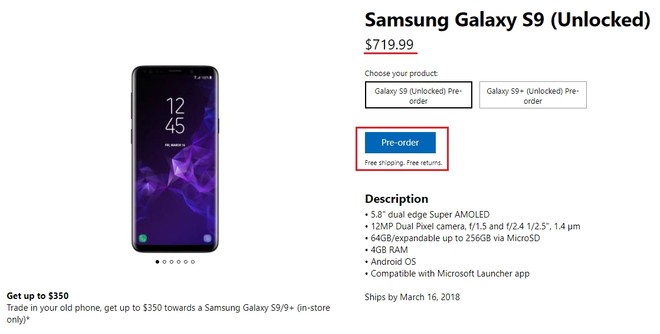 That said, depending on the regions and the operators, these smartphones may come with interesting applications of the company pre-installed, such as Word, Excel, OneNote, Skype and others. In addition, Microsoft also advises its consumers to install their own launcher that recently won a beta with many new features .
It is worth mentioning that the Galaxy S9 and S9 Plus, even though they look a lot like their predecessors, have several features that make them great devices. We can cite as example its cameras with variable openings that can end up becoming trend in the market, great hardware and the AR Emoji, software that was developed to hit head on with the Animoji of Apple. The two will start being sent on the 16th of this month .
Galaxy S9 and S9 Plus
5.8 "(S9) and 6.2" (S9 +) Super AMOLED screen with Quad HD + resolution (2960 x 1440 pixels)
Chipset Qualcomm Snapdragon 845
4 GB (S9) and 6 GB (S9 +) of RAM
64, 128 and 256 GB of storage
Single camera (S9) and dual camera (S9 +) of 12 MP with variable aperture f / 1.5 or f / 2.4 and OIS
8-megapixel front-facing camera with auto focus
2x optical zoom and selective focus (S9 + only)
Slow motion video recording at 960 fps, plus 4K at 60 fps
Focus on artificial intelligence for image enhancement
Fingerprint reader and iris
3,000 mAh (S9) and 3,500 mAh (S9 +) battery
IP68 Certification
What do you think of the prices charged by the Microsoft Store? Do you think they are in account? Be sure to comment.
The Samsung Galaxy S9 Plus is not yet available in Brazilian stores.
The Samsung Galaxy S9 is not yet available in Brazilian stores.
Also See:How To Get Some Features of the Samsung Galaxy S9 on your Samsung Galaxy S8
See More At AndroidDump.