I saw an incredible tip in the group from PUBG Mobile for those who own small screen and want to zoom in to see and shoot better from long distance. The hint is ideal for hitting enemies that are far away and works in games like Mobile, Fortnite, Free Fire, and many others.
The tip is great for anyone who has a 2X target and the enemy is too far away. Lets catch an 8X and turn into a 15X that does not even exist in Battle Royale games. Perfect for that match in which you're Kar98 or AWM, but not 4X or 8X.
Best of all, it's not hacking or cheating, it's a feature on any Android phone that lets you zoom in on a smartphone screen area.
Since we were unable to share the video from the group. We asked for permission to post on the channel. Check out the video below.
The procedure is to enable an Android Accessibility feature. With it, the smartphone will zoom the screen in the area where the user plays three times..
However, you must sacrifice one of the firing buttons. You will need to place one of the buttons in the center of the screen, so that it is almost transparent so as not to disturb the game.
This tip is most useful for anyone who owns a smartphone with a screen of 5 and 5.5 inches. For those who have bigger screens or tablets may not be very interesting, but for those who enjoy playing sniper, this tip is killer.
Using the tip to enlarge image
To use the hint, simply tap the screen with the scope activated three times. Remember that it will still be possible to move the crosshairs to make adjustments.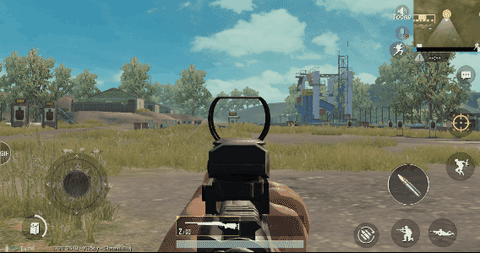 The initial zoom is 2x, but you can go up to 8x or more just by making the tweezer move (with both fingers). However, in doing so, it will no longer be possible to move the scope for a few seconds.
Also See:PUBG Mobile: Where is the Royale Pass Quarry of Mission
See More At AndoidDump.